How this student rated the school
Educational Quality
B
Faculty Accessibility
A
Useful Schoolwork
B-
Excess Competition
B
Academic Success
B
Creativity/ Innovation
B+
Individual Value
A-
University Resource Use
A
Campus Aesthetics/ Beauty
A+
Friendliness
B
Campus Maintenance
A+
Social Life
A-
Surrounding City
D-
Extra Curriculars
A-
Safety
A
Describes the student body as:
Friendly, Approachable, Snooty, ClosemindedDescribes the faculty as:
Friendly, Helpful
Lowest Rating
Surrounding City
D-
Highest Rating
Campus Aesthetics/ Beauty
A+
She cares more about Surrounding City than the average student.
Date: Mar 22 2006
Major:
Biology
(
This Major's Salary over time
)
I am currently a freshman bio major at JMU. Here are my pros and cons:Pros: The campus is absolutely gorgeous. It really is impossible to visit this school without loving the campus. It is kept in beautiful condition year round and is very aesthetically pleasing. The Shenendoah Valley is an extraordinarily beautiful place to live, I cannot stress it. I love camping and hiking so first semester I had a blast going on trips. The facilities on campus are also very useful. The University Recreation center is top of the line. All the buildings are beautiful with their southern architecture and the quad looks like it's from a postcard. The faculty members that I have experienced thus far at JMU have overall been very helpful and approachable. Faculty generally seems to care about their students. Dorm life in general also seems to be above average. For my first year, I was put in one of the smaller dorms and it has been a good experience. The dorm rooms themselves are generally spacious and meet all of the students' needs. As far as academics go, not too many complaints. Yes, GenEd classes do suck for the most part, but just get them overwith and who knows, you may find some to be enjoyable. The students here, as many will tell are, are pretty much friendly and approachable. BUT don't let these descriptions fool you; yes, students are friendly and the southern attitude is prevalent, but I have found most to be very shallow and self-absorbed, making it very hard to find down-to-earth, genuine people, as well as establishing meaningful relationships.Cons: As I said, most of the students here don't have terrific attitudes. Don't get me wrong, I've met some great people, you just have to search a little bit harder than you would in a diverse community. Yes, the rumors are true…the girl:guy ratio is about 60:40 (though it feels like 80:20) and A LOT of the girls are very pretty. Speaking as a girl myself, it's very intimidating. Not only do I most of the time feel inadequate compared to the other females here, it makes it nearly impossible to find a decent guy with his head on straight because any guy who goes here basically has his choice of women. Guys, don't let this fool you either, yea the girls are hot, but most are very shallow. I'd say about 70% of the students are here to party and 30% are here to actually get a good education. Parties here are OK. There is always a party to go on the weekend and there's always free alcohol to drink which is good. But, often times parties get too crowded and you have to wait 30 minutes just to get a beer. So, unless you make a solid group of friends who like to hang out and drink on the weekend, most freshman are limited to overcrowded parties consisting mainly of girls.Harrisonburg SUCKS. When I first visited JMU I really thought I could live down here, it appeared that Hburg was just your typical, cute southern town. Believe me when I say, there is NOTHING in this town…the only reason it is here is because of the university. Other than a Wal-Mart and the "Valley Mall" there's not much to do here. Also, transportation is hard to find as a freshman. Shockingly enough, in a town with a University of 15,000 students, there are no train stations in Harrisonburg (closest one is 20 mins south) and no Greyhound bus stations. This makes it hard, especially when freshman aren't allowed to have cars…it makes getting home a real pain in the butt. There is a Home Ride bus that runs on the weekends, but it only goes as far north as Vienna, VA (DC area) so it makes it tough for us northerners.I think that pretty much sums it up. If you are looking to come to JMU, my comments are completely non-biased. I don't love JMU but I don't hate JMU by any means. I am actually considering transferring next semester because I so desperately want to be in a city surrounded by more diverse settings. But don't get me wrong, I still do like JMU (which is why my decision is going to be a tough one) and it may, in fact, be the school for you.
Responses

Hey, just wanted to say this review is a really good one; I think a lot of people are scared to say what they really think about jmu when/if they have gripes, because of the level of conformity there—ppl get furious if they hear anything other than "i fucking love jmu" coming out of someone's mouth.also as a jmu guy, let me say this: i think you're spot on about both the girls and the guys; superficially nice, but scratch that shiny surface and you'll see just how selfish and shallow they can really be. And also personally as a guy, although I've hooked up with my fair share of girls at jmu (as well as had my fair share of dry spells), I've never felt like I had my "choice" of girls here. The sorority-type girls annoy me, and aren't really that approachable for me; you have to be a certain type of guy to be "in" with those girls. You know the type of guy I mean: for starters, I weigh about 155 lbs (even tho i lift a lot of weights), and most of the dudes, for some reason, are huge, and i think somehow that's correlated with ease of getting chicks. Second, you gotta be a "bro", as in only care about and talk about drinking, partying, and shallow stuff like football or whatever. I'm think I'm a pretty deep guy, and my old roommate summed it up best after we went out to a party together: "it's like the girls here are pretty attracted to you when they first see you, but that almost immediately cools off when you actually start talking to them." That and I had a lot of trouble finding people who had anything interesting to say or liked having deep conversation of any kind; sometimes I even ran into people who mocked the idea of things like reading and 'deep conversation'. I mean i eventually found people who were cool, interesting, and, like, not cardboard cutouts, but it took a while.Anyway, thank you for writing this review though, it makes me feel like I'm not so alone in the way I feel about jmu.

If you are motivated to accomplish great things in life and are not afraid of working hard towards reaching those goals then…FOR THE LOVE OF GOD DON'T GO TO JMU!!! After your first semester you will resent your decision for coming here!!! If it's between Radford and JMU, then you're just screwed!

James Madison is no different than any other large school in virginia as far as social norms are concerned. Sure, you may feel like all you meet are "bros" and petty girls but if you look hard enough anywhere, you'll most likely find something you like and people who make your experiences worthwhile. "The distinction between the past, present and future is only a stubbornly persistent illusion." - Albert Einstein

JMU is a culture of fake people who are consoled and appeased by the ease of access to drugs. All anybody cares about is partying while their parents pay for every drop of alcohol. The girls are stuck up for the most part, hot, but shallow and "simple." Yeah they're all hot as fuck, but I'm sad to say that JMU has made me get more easily annoyed and angry with women in general (and I'm someone who is very pro-equality for all genders, races, ect.) This is where culture goes to die.

Wonderful! I will prefer every student to study here as this is the best place to gain religious as well as worldly knowledge. You can get dissertation proofreading service to write your educational task easily. If you want to have a balance in your life then this is the best university that you could ever have.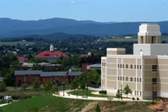 Similar Colleges by BUDGET