Arizona State University - Tempe
How this student rated the school
Educational Quality
A
Faculty Accessibility
A
Useful Schoolwork
B
Excess Competition
A
Academic Success
A
Creativity/ Innovation
B
Individual Value
B
University Resource Use
B
Campus Aesthetics/ Beauty
A
Friendliness
B-
Campus Maintenance
B
Social Life
C
Surrounding City
A
Extra Curriculars
D+
Safety
B+
Describes the student body as:
Friendly, Arrogant, Broken Spirit, SnootyDescribes the faculty as:
Friendly
Lowest Rating
Extra Curriculars
D+
Highest Rating
Educational Quality
A
He cares more about Extra Curriculars than the average student.
Date: Aug 26 2004
Major:
Business - Management and Administration
(
This Major's Salary over time
)
There are good and bad things about ASU, but overall, I wonder if I should have gone to another school.Most people have heard by now about the party scene here. I am not sure how they judge that, but there is just as much partying going on at just about every college. Things are going downhill right now though. The greek system, which accounts for a lot of partying traditionally, is almost dead, and has been dying for years at ASU.Cons:—- Horrible greek system. No one quite knows the exact reason, but there are a lot of contributing factors. For one, the sororities cannot have houses by law - they all live in one little complex that resembles the dorms. Second, the fraternities have not built new houses in decades, and do almost no maintenance. Over the years just about every strong house has been kicked off campus. Houses have been condemned for asbestos, and others have been torn down because the fraternities were never coming back. Then there are the students that make up the greek system here. ASU has always had a very small percentage of greeks. For the fraternities, that percentage is composed almost entirely of tools that weren't cool in high school and desperately need some sort of group to be involved in. They have no social sense at all, and don't know how to treat women. As a result, the frat guys here embody all of the stereotypes you have ever heard. They're sloppy, dirty, fat, ugly, stupid, and they mistreat the women. They love drugs (cocaine especially), and are totally open about it. They offer the drugs to girls, and have no sense of chivalry. Then there are the sorority girls. Since ASU's greek system has been so bad for so long, very few quality girls even consider it to begin with. As a result, the sororities are full of raging alcoholic girls ("We drink 8 nights a week!") who are shady and backstabbing. And to top it all off, they aren't even hot! Even the top houses are full of girls who appear to be way past their prime (if they had one). There's three types of girls - the ones that are "almost hot", the ones that never were hot, and the butterfaced ones that look good from 50 feet away. The lack of quality in the sorority girls here is no surprise - why would any classy girls join a sorority here when they have no houses, zero support from the univeristy, and nothing but toolshed fraternity guys to have socials/mixers with? Take it from me - the greeks DO NOT run ASU. ALl of the quality girls, all of the girls that are actually hot, are NOT greek and most are against it.
No "small-town" atmosphere. Highly fragmented social scene. This is a controversial subject, but anyone from a small-town college will tell you there is nothing else like it. The social scene is not about fun bars, or exciting places. It's about bringing people together, and socializing. ASU is right next to a major city. While this gives people access to many exicting places and more resources, it also causes some problems. For one, it makes the social scene entirely too fragmented. There are way too many bars and clubs for one school to support, and as a result, there is never one place that everyone goes to. And because of that, "bar hopping" is popular. Nothing makes a night of drinking more complicated than people wanting to switch bars every 20 minutes. The other problem with being in a big city is the students live all over the place. This makes it more difficult to commute to and from school and to and from other apartments/houses. As a result, there are a million parties every night all with very few people. And just like bar hopping, party hopping is the standard here, so if you're hosting, expect everyone to come and go like its some kind of joke. And if you're party hopping, expect things to get complicated as everyone gets on their cell phones and find different parties and try to find rides to get around this big city.
Not enough dorms. Only about 5000 students live on campus. Not even all of the freshmen live on campus. They aren't even required to, which creates problems. Additionally, there are no dorms for sophomores, so after freshmen year, life gets much more complicated than it should be that early in college. Everyone gets apartments in random places, and the social scene becomes more fragmented. I believe college life should NOT already be that complicated by the time you are about 19. Most kids have to get jobs by then, which results in less time to socialize and study. ASU is about 70% college life, 30% real life. In small towns, you get the benefit of 100% college life.
Living expenses too high. Since there are no sophomore dorms, everyone has to get houses or apartments by their second year. Most kids end up having to work more. If they don't, and their parents support them, they're usually broke. Since this isn't a small college town, everything is regularly priced - food, gas, rent, etc.
Michael Crow. The new president at ASU it doing everyting wrong. He claims that the current idea of a university just doesn't work for ASU. His idea is to spread out the campus even more, so that there will be 4 separate major campuses, and students may even have to commute to the west side of town _during the same day_. The west side of Phoenix is around 45 minutes away. His plans for parking are even worse. He is creating very little additional parking on campus, and wants to move more parking off-campus and make ASU into a commuter campus. The result is going to be an even more fragmented university than what we already have. Ultimately it may have the feel of a community college - drive to campus, go to class, then go home. No social scene whatsoever, no activity other than class.
Cheesy dudes. I'm saying this as a guy, not only from the experience I have had but what the girls tell me. The girls constantly complain that there are very few hot guys here. Honestly I havne't look enough at that so I couldn't tell you whether that's true. I can say for a fact that ASU has a ton of cheesy, toolshed guys who came here because they heard it was cool. This school is full of wieners who can't treat women right and like to stand out on their porches at 4:00am, desperately hoping some drunk girls will walk by and they can score. If you're a guy reading this who is NOT a tool, you can do well here. Just meet as many girls as you can, see where they hang out, and stay one step ahead of the cheesy guys here. The trick is to go out earlier, find the right places (just follow the girls) call it a night at about 2 (don't even be that guy who is out on his porch at 4am), never offer to buy girls drinks at bars, and basically just live at a higher level than the rest of these clowns, and you'll be in like flynn.
Pros:
Right next to Phoenix. This affords ASU students many additional opportunities while they are in school and gives them access to everyone a major city offers. While this can be good from one perspective, it totally destroys the whole "college town" idea, and results in a highly fragmented student community.
Massive student body. We're at over 55,000. This can be good or bad, but I personally like the idea of a huge school where there are always new people to meet.
Tons of hot girls. As long as you stay away from the sub-par sorority bimbos here, you are sure to find classy girls.
Co-ed dorms. There are no boys/girls dorms at ASU. There are no separate floors for boys/girls. The only separation is by suites (did I mention only two rooms share a bathroom? No community bathrooms at ASU. Some of the nicer dorms even have their own bathrooms as well as their own living rooms and kitchens). Things get wild here. And I don't mean people hooking up with people on their floor - that would be lame. The great part is instead of meeting 500 dudes and only having them to roll with when you go out, you will know tons of girls as well, and get to meet all of their hot friends. Living on the same floor with tons of hotties has so many benefits. And since the dorms are co-ed, there are no hours. If you want to sleep over at a girls dorm or vice versa, there's no problem. While this may sound bad or unsafe, a lot less happens than you think. With tons of guys on the floor already, things stay a lot safer, the girls have some kind of protection. The other great thing is afterparties and people hanging out in the dorms after going out - no more sausage fests late at night - there will be tons of girls there because they live right next to you.
Great business school. If you're interested in business, this is a great public university to go to. It is very highly rated and has had many positive reviews. The classes are challenging and there is also a very good MBA program.
Overall, when considering ASU you need to decide what you are looking for in a University. If you're another douchebag who wasn't cool in high school and read that ASU is a "party school" with "hot girls" - do us all a favor and look elsewhere.
Responses

Hey there, I'm an international student consdering ASU and after reading your review I gotta say it give me a lot more insights on what life's gonna be like there. I still got some questions though I hope you can help me out with.Which dorm do you recommend? I'm looking for a single room, and of course, looking forward to see the prettier girls on campus :P I heard a lot of horror stories about Manzanita though (
14 floors of whores???
).Is it true that even international students get caught up with the partying? Sounds fun, kinda…(if its true) as I'm an international student and I know 1st hand that most of us are just not very social. As long as its not too much that is.Do you happen to know if engineering and architecture school are any good? Also what about the workload? I used to go to WSU and they give tons of them, I like challenges but not in quantity.Also, do you think ASU is gonna be a good place for a forreigner like me? I'm pretty serious about studying but like to party just like everyone else, so parties and pretty girls are a big plus. I hope this is the right choice. Yeah I'm that shallow lol.Thanks for your help.

Come on people, grow up! There are 20K to 60K students at most public universities. If you cannot find a group in which you fit, you might want to look in the mirror. Don't stereotype fraternities and sororities unless they are your own. The school has many great academic programs. No school that I am aware has excess housing. Hmm… look at your focus, "parties and pretty girls".. and you listed parties as a positive but gave the school a C in social life…

This is the university site through which you can know about all the students' information. Around the globe there is grade miners reviews that are giving the imperative material that is related to know more.

You're totally right about the social scene! I've met a shit ton of people, but I'm not close with any of them at all. Hell, I'm lucky if I get to see any of them at least a few times a semester. Everything is just so far apart which makes ASU a commuter school (parking is a joke also). Anyone considering coming to ASU (especially internationals) should look into college town schools like Texas A&M and University of Arizona (where I'm planning to transfer). Those types of places will allow you to meet people much more easily since everyone is close by no matter what your age. I have absolutely no social life in Tempe which sucks because one can only go lonely for so long before going insane. Yes I mentioned UofA also because people there are easy to befriend and connect with.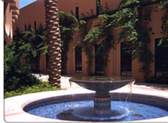 Similar Colleges by BUDGET