include_once("header.php3"); ?>
Welcome to StudentsReview!
Uncensored college reviews -- Informative, Awesome & Truthful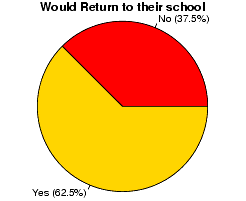 37% of students would not choose their school again.

A Sample College Review
Rice University
"Rice is pretty much like heaven. I love this school and everything about it. I came from a high school where people looked down on you if you were smart or cared about anything beyond our little town. Rice is the greatest experience I could've ever asked for, and every day I'm glad I chose it.



Everyone here is incredibly friendly and engaged. People are smart, inspired, and ...

" more...
Twenty Most Reviewed Universities

Pleased
University Name
City, State
Total
Pensacola Christian College
Pensacola, FL
2582
Bob Jones University
Greenville, SC
817
New York University
New York, NY
541
University of Michigan - Ann Arbor
Ann Arbor, MI
539
Rochester Institute of Technology
Rochester, NY
522
Boston University
Boston, MA
508
University of Houston
Houston, TX
476
Georgia Institute of Technology
Atlanta, GA
429
George Washington University
Washington, DC
429
Pennsylvania State University
University Park, PA
427
University of Illinois Urbana - Champaign
Champaign, IL
418
University of Southern California
Los Angeles, CA
411
Savannah College of Art and Design
Savannah, GA
407
Texas A & M University - College Station
College Station, TX
378
Kettering University
Flint, MI
371
State University of New York Binghamton
Vestal, NY
371
Liberty University
Lynchburg, VA
369
Cornell University
Ithaca, NY
367
Michigan State University
East Lansing, MI
366
James Madison University
Harrisonburg, VA
345
Fordham University
Bronx, NY
340
University of Maryland - College Park
College Park, MD
327
University of California - Berkeley
Berkeley, CA
326
University of Wisconsin - Madison
Madison, WI
319
Florida State University
Tallahassee, FL
309
Totals

(100264 : 11065 : 84172)

195501 Total Reviews; 3359 Total Universities Reviewed