include_once("header.php3"); ?>
Welcome to StudentsReview!
Uncensored college reviews -- Informative, Awesome & Truthful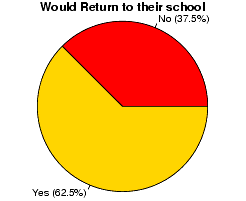 37% of students would not choose their school again.

A Sample College Review
Baker College of Owosso
"Unbelievably easy. The course work for a college composition course should be challenging and time consuming. Instead, there are field trips planned, the instructor believes in I-Search Papers, and the syllabus is way to short. I'm not being challenged and I'm very dissapointed. The thought of transfering before the end of the year has come to mind every minute I have been here... " more...
Twenty Most Reviewed Universities

Pleased
University Name
City, State
Total
Pensacola Christian College
Pensacola, FL
2635
Bob Jones University
Greenville, SC
829
New York University
New York, NY
556
University of Michigan - Ann Arbor
Ann Arbor, MI
540
Rochester Institute of Technology
Rochester, NY
535
Boston University
Boston, MA
523
University of Houston
Houston, TX
493
Pennsylvania State University
University Park, PA
437
George Washington University
Washington, DC
436
Georgia Institute of Technology
Atlanta, GA
436
University of Illinois Urbana - Champaign
Champaign, IL
434
Savannah College of Art and Design
Savannah, GA
421
University of Southern California
Los Angeles, CA
415
Iona College
New Rochelle, NY
393
Texas A & M University - College Station
College Station, TX
390
Michigan State University
East Lansing, MI
387
Liberty University
Lynchburg, VA
381
Cornell University
Ithaca, NY
378
Kettering University
Flint, MI
375
University of California - Berkeley
Berkeley, CA
372
State University of New York Binghamton
Vestal, NY
364
Fordham University
Bronx, NY
364
James Madison University
Harrisonburg, VA
356
University of Maryland - College Park
College Park, MD
336
Drexel University
Philadelphia, PA
330
Totals

(109162 : 25570 : 97159)

231891 Total Reviews; 3359 Total Universities Reviewed