include_once("header.php3"); ?>
Welcome to StudentsReview!
Uncensored college reviews -- Informative, Awesome & Truthful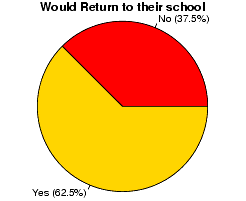 37% of students would not choose their school again.

A Sample College Review
Bob Jones University
"I greatly enjoyed and profitted by my time at BJU. The Lord used my experience there to teach me much about life and to prepare me for ministry. The education was very thorough and most of the faculty, staff and students were encouraging and uplifting. I went to BJU straight from public school and never had any problem with adjusting to the rules, nor did any of my friends. ... " more...
Twenty Most Reviewed Universities

Pleased
University Name
City, State
Total
Pensacola Christian College
Pensacola, FL
2588
Bob Jones University
Greenville, SC
818
New York University
New York, NY
542
University of Michigan - Ann Arbor
Ann Arbor, MI
532
Rochester Institute of Technology
Rochester, NY
523
Boston University
Boston, MA
507
University of Houston
Houston, TX
477
Pennsylvania State University
University Park, PA
430
George Washington University
Washington, DC
427
Georgia Institute of Technology
Atlanta, GA
425
University of Illinois Urbana - Champaign
Champaign, IL
418
Savannah College of Art and Design
Savannah, GA
408
University of Southern California
Los Angeles, CA
408
Texas A & M University - College Station
College Station, TX
380
Kettering University
Flint, MI
371
Michigan State University
East Lansing, MI
369
Cornell University
Ithaca, NY
367
Liberty University
Lynchburg, VA
366
State University of New York Binghamton
Vestal, NY
357
Fordham University
Bronx, NY
346
James Madison University
Harrisonburg, VA
346
University of Maryland - College Park
College Park, MD
328
University of California - Berkeley
Berkeley, CA
328
University of Wisconsin - Madison
Madison, WI
320
Francis Marion University
Florence, SC
309
Totals

(101247 : 24570 : 94335)

220152 Total Reviews; 3359 Total Universities Reviewed